5 IT Trends to Watch in 2023
As the end of the year approaches, we thought it was fitting to focus on technology trends that could benefit your business.
Here are the 5 areas that we recommend you explore in 2023 to ensure that your business is growing, reducing costs, improving security, and accommodating a growing mobile workforce.
Cloud Computing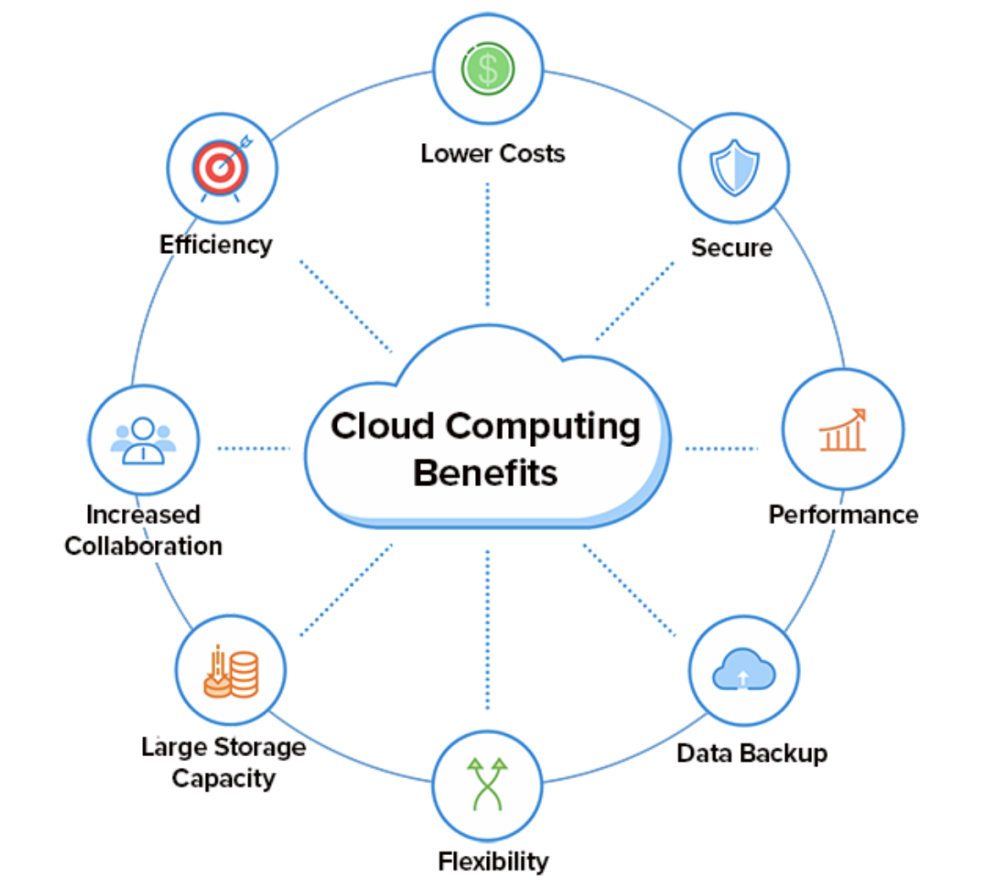 Cloud computing is the delivery of computing services—including servers, storage, databases, networking, software, analytics, and intelligence—over the Internet ("the cloud") to offer faster innovation, flexible resources, and economies of scale. Cloud computing is a big shift from the traditional way businesses think about IT resources.
There are several benefits including:
Cost
Data Security
Scalability
Mobility
Disaster Recovery
Control
Speed
Performance
 Cloud computing adoption is on the rise every year as companies recognize cloud computing benefits and see how they impact their production, collaboration, security, and revenue.
By using a cloud-based solution, an enterprise becomes more competitive as they reduce the costs and problems associated with an on-premises IT infrastructure model.
For more information, please refer to our article, How Cloud Computing Reduces Costs and Increases Efficiency
Security
Last year, cybercriminals conducted a massive wave of cyber attacks that were highly coordinated, and far more advanced than ever seen before. 
Simple endpoint attacks have transformed into complex, multi-stage operations. Small businesses are now in the crosshairs more than ever because they are seen as more vulnerable than corporations. Criminals can now attack single industries with template-based attacks because many companies use the same software that has been tailored to the industry. A successful attack on one of these businesses makes it easier than ever to scale across the entire Industry. 
It was also a year of massive data leaks, expensive ransomware payouts, and a more complicated threat landscape. A relatively new category, Crypto-mining attacks gave cyber criminals an easy foothold into company networks in order to access additional computing power to illegally mine cryptocurrencies. 
Make sure you're protected by implementing these recommendations:

Create an Automated Security Patching Solution

Enable Multi-Factor Authentication

Define and Monitor User Rights to Files and Systems

Define Proper Network Security Protocols

Use Network Segmentation to Manage Malware and Ransomware Risks

Invest in Network Security Analytics

Limit and Control External Network Connections

Perform External and Internal Security Scans

Provide Security Awareness Training

Create a Disaster Recovery Plan
For more information about network security, please read our article, 10 Ways to Strengthen Your Network Security and Protect Your Business.
Worker Mobility
Companies are facing a new reality where mobility rules, which is requiring them to prioritize speed, performance, and security in their technology. Organizations need to help their employees work remotely while protecting company networks.
Fortunately, technology has kept pace with the increased need for mobility, speed, performance, and privacy. Modern workforces are blessed with a new generation of intelligent tools — headsets, microphones, cameras, speakers, laptops, docks, monitors, software, and applications — to optimize team collaboration and boost privacy and performance while minimizing end-user risk and maintaining adequate security.
Three areas where software technologies can help:
Secure mobility
Boost speed, agility, and performance 
Stay connected for optimized collaboration
As businesses enter a new frontier with remote workforces as the norm, the ability to safely and effectively connect and collaborate remotely will prove critical to future success. 

Market leaders will embrace AI-based tools allowing remote employees to work efficiently and safely anywhere.
Worker Mobility Solution: Microsoft 365 and TEAMS
Equip your mobile workers with agile workforce management software —all in a single, intuitive user experience. Set up your team's space so everything you need to work together is available any time, all in one place. Stay connected and access shared content any time to learn, plan, and innovate—together.
Meet from anywhere
Schedule online meetings with high-quality audio and video or start one instantly. People inside and outside of your company can join from anywhere.
Keep everything in one place
Refer to meeting chats and shared files any time before, during, and after a meeting ends.
Get things done together
Easily work together in real-time or on your own time. With free cloud storage included, shared files are always available across your devices.
Work with confidence
Collaborate without worry knowing your sensitive information is protected with data encryption at rest and in transit.
For more information on how Microsoft TEAMS can benefit your organization, please refer to our article, How Microsoft TEAMS can Benefit Your Business.
Internet of Things 
The Internet of Things (IoT) is a term that's come to be used to describe the ever-growing networks of physical objects that are online, connected, and capable of communicating and sharing information with us and with each other.
In 2023, it's predicted that there will be more than 43 billion devices connected to the internet. They will generate, share, collect, and help us to make use of data in all manner of ways. 
Those IoT connections are spanning across the globe and throughout industries, as well as permeating individual homes, offices, and vehicles, with the most prominent applications of IoT technologies falling into the following categories:
Connected vehicles

Buildings and Homes

Manufacturing

Energy Grids

Smart Cities

Supply Chain Management

Environmental Monitoring

Industrial, agricultural and commercial management
Benefits of using IoT:
lower operational costs;

enhanced productivity;

optimized output;

increased security;

improved safety;

better quality control; and

heightened understanding and visibility into real-world activities.
Machine Learning (ML) and Artificial Intelligence (AI)

From smart virtual assistants and self-driving cars to checkout-free grocery shopping, AI is all around us.
Here are several areas where AI is being used today:
Smart products

Smart assistants

Personalized recommendations

Predictive Maintenance

Fraud detection

Helpdesk chatbots

Facial recognition technology

Personalized marketing messaging

Customer relationship management (CRM) 

Delivery and travel

Healthcare

Manufacturing
AI is an emerging technology, and changing at a fast pace and may present some unexpected challenges. Many companies wait for new technologies to gain broad industry adoption before implementing themselves, but waiting can result in losing some compelling advantages. Even implementing AI on a small scale can reap several benefits including:
Reducing operational costs

Gaining competitive advantage

Increasing efficiency

Saving time and money by automating and optimizing processes and tasks

Increasing productivity and efficiency

Making faster business decisions based on AI data outputs

Reducing human error and mistakes

Honing insights in order to predict customer behavior and preferences to offer them a better, personalized customer  experience

Generating more quality leads for your sales team from AI data sources

Identifying more sales opportunities

Increasing expertise and knowledge through analysis of AI-generated data 
According to a recent Infosys study, the main decision for using AI was a competitive advantage. Other drivers included:
Executive-led decision

Specific business, operational or technical problem

Internal experiment

Customer requirement

An unexpected solution to a project or problem
Technology is not enough. Research shows that AI can't perform optimally on its own. AI technologies are excellent at replacing repetitive tasks, but businesses can attain the best performance when people and technology work together.
If you have any questions about any of these technologies and how they could benefit your company, Let's talk.