Unlock the Power of Your Data and Your People with Business Intelligence
Making data-driven business decisions has never been more important. In order to be competitive, businesses need to improve decision making by updating their process for collecting, analyzing and interpreting data.
Business leaders know that timely, fact-based decision making generates the best outcomes. Data-driven decisions can help an organization eliminate assumptions and blind spots in order to identify new opportunities or uncover organizational issues.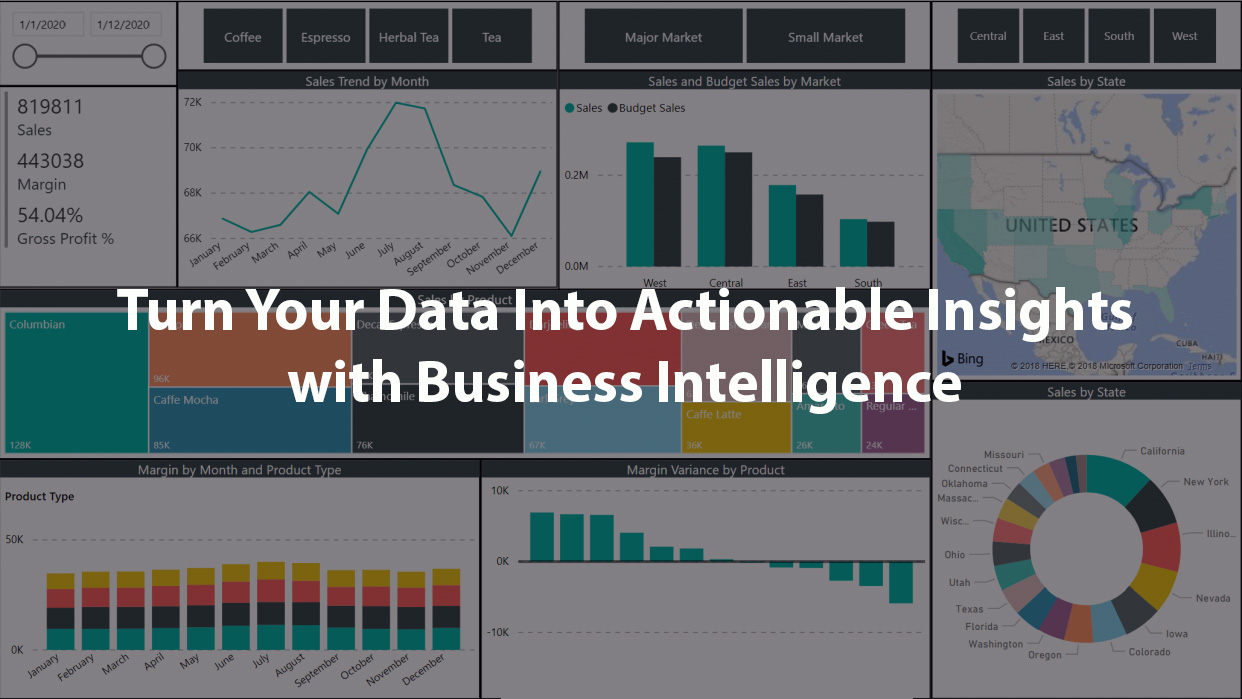 What is Business Intelligence?
Business intelligence is the process by which organizations use strategies and technologies for analyzing data, with the objective of improving strategic decision-making.
In today's data-driven world, organizations are dealing with information overload. And companies who are interested in working smarter, are investing in ways to control and understand this information in order to make better decisions quicker.
Business Intelligence helps organizations examine trends, adapt to changing market conditions, and improve decision making throughout the company. The BI solutions that a company implements depends on their goals which may range from monitoring consumer behavior and improving employee productivity to predicting top selling products and services.
Benefits of Business Intelligence:
Faster and more accurate reporting
Staff can hit the ground running by using report templates or customized reports to monitor KPIs and generate reports and actionable insights. These reports pull from a variety of data sources, including sales, financial, and operations. Reports are generated in real-time and use the most relevant data so businesses can act quickly.
Valuable business insights
Businesses can monitor and evaluate employee productivity, revenue generation, and performance, while also identifying strengths and weaknesses. BI software can provide immediate feedback on what's working and what can be improved so that busy managers and executives can stay on top of the performance indicators that matter the most.
Competitive analysis
Companies can track their competitor's sales and marketing performance, and learn how to better differentiate. BI provides smarter and faster budgeting, planning, and forecasting tools and insights in order to stay ahead of the competition.
Better data quality
BI not only helps to organize massive amounts of data, but also cleans up data by mitigating redundancies, discrepancies and inaccuracies. BI centralizes data by consolidating multiple databases and sources throughout the organizations. Businesses that focus on collecting, updating and creating quality data will be more successful. With BI software, companies can aggregate different data sources for a more complete picture of what is happening with their business and the market.
Increased customer satisfaction
BI software can help companies understand customer behaviors and patterns. Most companies are taking customer feedback in real time and this information can help businesses retain customers and reach new ones. These tools may also help companies identify buying patterns, which help customer experience employees anticipate needs and deliver better service.
Identifying market trends
Identifying new opportunities and building out a strategy with supportive data can give businesses a competitive edge, directly impact long-term profitability, and gives the full scope of what is happening. Employees can leverage external market data with internal data to detect new sales trends by analyzing customer data and market conditions, as well as spotting business problems.
Increased operational efficiency
BI tools unify multiple data sources, which help with a business's overall organization so that managers and employees spend less time tracking down information and can focus on producing accurate and timely reports. Armed with up to date and accurate information, employees can focus on their short and long term goals and analyze the impact of their decisions.
Improved, accurate decisions
Competitors move quickly and it's important for companies to make decisions as quickly as possible. Failure to issues with accuracy and speed could lead to lost customers and revenue. Organizations can leverage existing data to deliver information to the right stakeholders at the right time, optimizing time-to-decision.
Increased revenue
Increasing revenue is an important goal for any business. Data from BI tools can help businesses ask better questions about why things happened through making comparisons across different dimensions and identifying sales weaknesses. When organizations are listening to their customers, watching their competitors, and improving their operations, revenue are more likely to increase.
Lower margins
Profit margins are another concern for most businesses. Fortunately, BI tools can analyze inefficiencies and help expand margins. Aggregated sales data help companies to understand their customers and empowers sales teams to develop better strategies about where budgets should be spent.
How to Implement BI into Your Business
There are a myriad of ways organizations can implement a business intelligence solution. To successfully implement and scale BI within your organization, we can help sort through all of the options, articulate a strategy and develop a roadmap that results in a successful outcome.
Start with your existing systems and data
ERP system
CRM application
Human resource management applications.
Supply chain management systems (procurement management, vendor management, warehouse management).
Line-of-business applications.
Shop floor software.
Field service software.
Internet of Things (IoT).
Websites and web portals.
Other external sources.
 Our team will design and develop systems that will help you leverage the power of your data:
Stay proactive with real-time data
Empower your team with easy-to-use dashboards
Access your data anywhere with mobile intelligence solutions
Make smarter decisions with predictive data models
Stay productive with fewer interruptions and faster answers
All on the platforms and technology that works best for you
Our business intelligence experience allows us to see through complex systems and make sense of data in a way that's best for your business. From data analytics consulting to enterprise business intelligence, we know that a guiding measurement of success for any BI strategy is adoption by the end users of the organization, and we strive to ensure these users are comfortable with the software.
Flexible options that fit your needs, budget and timelines:
BI implementation consulting
BI solution design.
A detailed BI roadmap for 3, 5, or 7 years.
A robust BI implementation strategy.
High-level description of data sources and ETL procedures.
Data quality assurance processes design.
Specification of challenges and ways to solve them.
User adoption strategy.
BI improvement consulting
In case the existing BI solution does not meet your BI and analytics needs, we conduct:
BI improvement roadmap design – upon analyzing your BI solution performance, backlogs, data quality issues, value for particular user groups, technology stack, etc.
Implementation (if required) – the recommended improvements introduced via the iterative approach (2-8-week iterations that may cover changes in KPIs and reporting, data quality improvements, and BI solution modifications).
User training.
Proof of concept (for complex projects).
Our Unique Approach to Business Intelligence
One thing that differentiates TRC Group from others is our focus on getting the right data, and knowing how to eliminate the bad. With business intelligence consulting, you'll discover which metrics are most valuable to your company, which data sources can provide answers to key business questions, and how to display the data in ways that help your team make better decisions.
You'll also benefit from a proven approach and repeatable process that encompasses:
Strategy
Perform initial discovery, assess client needs, document business goals and objectives, and create an action plan.
Implementation
Acquire and connect the data, validate and cleanse it, develop data management processes, and analyze.
Optimization
Evolve analysis and reporting, adapt implementation, and develop new dashboards as business changes and matures.
Training
Tap into business intelligence consultants for ongoing education and training to achieve sustainable results.
Proven BI Consultants
Our business intelligence consulting methodology has been successfully applied to organizations of all types in various industries, including travel, retail, healthcare, finance, tech, software, media and others.
Engage a BI consultant to share your story and pain points, get started with a comprehensive data management plan, and further EVOLVE your organization.
The Bottom Line—Helping You Make the Most of Your Data
Don't settle for meaningless numbers when clean, accurate data is critical for making informed business decisions. A partnership with TRC Group gives you access to some of the brightest minds in business intelligence and analytics.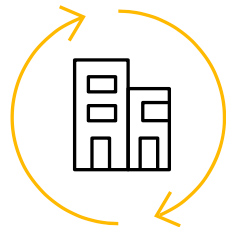 Using Data-Driven Insights to Prepare Your Business for What Comes Next.